Packages are carefully prepared and shipped within 72 hours. Each product is packaged to ensure maximum protection during delivery.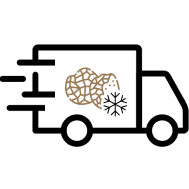 The parcels are handed over to the various transporters each day in order to be delivered to you as quickly as possible, and in the respect of the conservation conditions.

Before, during or after your purchase our customer service is available to answer all your questions via chat, phone or email
Dried morels, the ultimate mushroom flavour
The morel is one of the most coveted mushrooms among foodies, and for good reason: it's a rare mushroom with exceptional aromas.
Morels are harvested between April and June and those harvests can vary greatly from year to year depending on the weather, sunlight, etc.

At PLANTIN, we only offer dried morels and we have a very specific reason for that: they are dried immediately after harvest, preserving all of their flavours.
When dried, morels can be stored for a very long time while maintaining all of their flavours and aromas. As such, we can guarantee a product of excellent quality that can be stored for a long time.

The morel species that we offer is Morchella conica, the wild morel, which is one of the most sought-after species.
Its cap has a conical shape and can grow to between 6 and 12 cm. It has an irregular brown to blackish-brown honeycomb pattern. The stalk is hollow and can grow to as much as 12 cm.
Dried over a wood fire and carefully sorted
Our morels are dried on a bed of straw over a fire just after harvesting. This preserves all of their flavours, while adding a delicious smoky side to them. Once the morels have been harvested and dried, we treat them with very special care:
The morels are first stored in a cold room to eliminate any insects or small parasites.
After that, they go through a metal detector. Since morels are hollow mushrooms, it's not unusual to find any number of small objects in them (pebbles, metal, etc.).
Then, they go through two X-ray machines to eliminate any unwanted objects.

Finally, they are sorted, mostly by hand, particularly to sort them by size: mini, small, etc.
You can save the liquid left over from rehydrating your morels. You can then use it as a base for sauces, for example. This will add a unique touch of morel to your creations.
Before using it, pass the morel juice through a coffee filter. This will remove any sand.