To discover in the category

Packages are carefully prepared and shipped within 72 hours. Each product is packaged to ensure maximum protection during delivery.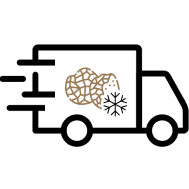 The parcels are handed over to the various transporters each day in order to be delivered to you as quickly as possible, and in the respect of the conservation conditions.

Before, during or after your purchase our customer service is available to answer all your questions via chat, phone or email
Delight your taste buds with gourmet truffle and mushroom products
Truffles and mushrooms are incredible ingredients that can be used in all sorts of ways.
Explore our full range of gourmet condiments and delicacies which have been developed and tested at our facilities to offer you unique flavours that you can use any time to elevate your cooking!

You can use our oils, condiments, and gourmet dishes for everything from appetisers to desserts to add a salty or sweet touch of truffle to all your creations.
We have something with a touch of truffle or mushroom for every palate: vegetable spreads, pastas and sauces, oils and vinegars, salts, condiments, and even chocolate.

Very easy to prepare and enjoy, our gourmet products with truffle will satisfy any craving you have.