Packages are carefully prepared and shipped within 72 hours. Each product is packaged to ensure maximum protection during delivery.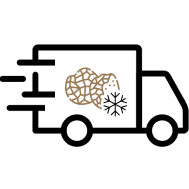 The parcels are handed over to the various transporters each day in order to be delivered to you as quickly as possible, and in the respect of the conservation conditions.

Before, during or after your purchase our customer service is available to answer all your questions via chat, phone or email
Discover dried horn of plenty mushrooms
Also known by their scientific name Craterellus cornucopioides, horn of plenty mushrooms are fantastic edible mushrooms.
While they're also known by the name "trumpet of the dead," don't let that fool you: they're not toxic, the name simply comes from the fact that their season arrives late in the year, generally around All Souls' Day (the Day of the Dead).
These mushrooms grow in deciduous forests and generally sprout from the ground after heavy rain. As such, it's not unusual to find lots of horns of plenty together because, in general, they grow quite abundantly (another reason for their name "horn of plenty").

At PLANTIN, we work with horn of plenty mushrooms that have been dried after harvesting. This allows us to offer them all year long while preserving their delicious flavours.
What's more, because they're very fragile after being picked, it's a great idea to dry them immediately to help preserve their appearance and flavour. Whether fresh or dried, horn of plenty mushrooms are dark grey in colour and don't grow to more than 10 cm tall.
They are very healthy as they are rich in fibre, minerals (potassium, iron, and phosphorus), and vitamins (B, D, E, and K).
How do you cook horn of plenty mushrooms?
It's very easy to enjoy dried horn of plenty mushrooms: first, rehydrate them in warm water for one hour, then rinse them well, brown them, and add them to your recipes.

Cooking them in a fatty ingredient like cream gives the horn of plenty mushrooms the ideal environment for unleashing and enhancing all of their flavours.