To discover in the category

Packages are carefully prepared and shipped within 72 hours. Each product is packaged to ensure maximum protection during delivery.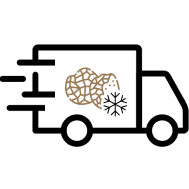 The parcels are handed over to the various transporters each day in order to be delivered to you as quickly as possible, and in the respect of the conservation conditions.

Before, during or after your purchase our customer service is available to answer all your questions via chat, phone or email
Enjoy black truffles all year round thanks to appertisation
Appertisation is a method of preserving food that allows us to offer you black truffles (Tuber melanosporum) all year long. We began using appertisation in response to a real need and desire from our business customers (chefs, restaurants, etc.): they wanted to be able to use the singular flavours of the black truffle year-round, not just for a few months a year.

So, we made that possible thanks to a simple treatment process: our truffles are sorted and cleaned, then put in jars. They are then placed in an autoclave to be cooked at a high temperature. When they come out of the machine, the black truffles are sterilised. This preserves all of the flavours of the black truffle so that it can be enjoyed all year long.
The black truffle in all its forms
Preserved black truffles come in many forms to meet the needs of both our business and individual customers.
The "Extra Truffle" is the quintessential black truffle. Harvested at the height of its maturity, its elegant, even form, associated with excellent flavour, make it a premium product.

The "Brushed Truffle" has the same flavour qualities as the Extra Truffle, with the difference that its shape is a bit less even. The "Truffle Pieces" also come from whole black truffles, from which we select the best pieces.
The "Truffle Breakings" are bits of truffle that are perfect for sprinkling over your dishes.
The "Truffle Shavings" will add a flavourful, crunchy dimension to your creations.

The "Truffle Juice" is the nectar of the black truffle. During appertisation, the sterilised truffle loses its water. We then collect this juice packed with black truffle flavour.