To discover in the category

Packages are carefully prepared and shipped within 72 hours. Each product is packaged to ensure maximum protection during delivery.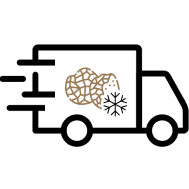 The parcels are handed over to the various transporters each day in order to be delivered to you as quickly as possible, and in the respect of the conservation conditions.

Before, during or after your purchase our customer service is available to answer all your questions via chat, phone or email
The fresh truffle is a mushroom that grows at the foot of certain truffle-producing trees (oaks, hazels, lindens, and poplars). They are found in France, Italy, Spain, Australia, and a number of other countries.
Fresh truffles are harvested (or "hunted") during their growing season, either in the wild or on truffle farms.
There are dozens of different truffle species throughout the world, but only four or five are really sought-after for consumption.
It takes a natural process called "mycorrhization" for a tree to produce truffles. Mycorrhization is a process of perfect symbiosis between a mushroom (in this case, a truffle) and a tree root. This process can happen naturally (in which case the truffles produced will be considered "wild") or in specialised tree nurseries that produce and sell "truffle-producing seedlings."

Once the truffle-producing tree is planted, it takes seven to 10 years for the first fresh truffles to form. It's important to know that the truffle harvest depends on many natural factors that can affect the quantity and quality of truffles produced: the type of soil, climate, the vagaries of nature, etc.

This is why fresh truffles are so rare and valuable. Each season, the truffle harvest is unique.