Black truffle
Tuber Melanosporum
The fresh black truffle, also called Tuber melanosporum or Périgord truffle, is known worldwide by fine-dining connoisseurs as being gastronomy's "black diamond." Fresh black truffle is undoubtedly the most famous of all truffles and everyone agrees that it is a unique, unrivalled ingredient. Black truffles are harvested in France, but also Spain, Italy, and Australia.

Packages are carefully prepared and shipped within 72 hours. Each product is packaged to ensure maximum protection during delivery.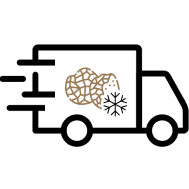 The parcels are handed over to the various transporters each day in order to be delivered to you as quickly as possible, and in the respect of the conservation conditions.

Before, during or after your purchase our customer service is available to answer all your questions via chat, phone or email
The fresh black truffle through the ages
The history of the black truffle goes back many centuries.
That said, up until the very early 19th century, fresh black truffles could only be hunted from the wild. Thus, only the lucky few and true connoisseurs had the honour of tasting "black diamond."

Then, in 1815, a man named Joseph Talon from the village of Saint-Saturnin-lès-Apt, in the Vaucluse department of south-eastern France, got the idea to plant on a rocky parcel of land a number of acorns from oaks already known to produce black truffles. This experiment produced great results, leading to the creation of the "domesticated" truffles that we all know and love today.
Fresh black truffles, excellence in the service of gastronomy
Fresh black truffles grow at the base of trees like the downy oak, the evergreen oak, and the common hazel. They begin developing in June, continuing throughout the summer. The famous philosopher Plutarch used to say that the black truffle, which loves August rainstorms, is "made of water, heat, and lightning."
It ends its growth when the first freezes arrive. Truffle hunters then begin harvesting them from late November to around the end of March.

Fresh black truffles have a more or less spherical shape and can grow to be larger than an apple. Their skin ranges from dark red to black at the height of their season. The skin also has irregularities to it, somewhat like a diamond. This, combined with its delicate nature, is what earned it the name "black diamond."

Its flesh, which starts pale yellow or light brown, turns a magnificent black colour, marbled with white veins, when the black truffle matures. It offers a powerful aroma that's like nothing else, a unique mix of damp undergrowth, earth, humus, and mushroom. On the tongue, it offers a prized balance between crunchy and soft, with a taste that's subtle and refined.
To enjoy fresh black truffle to the fullest, use between 10 g and 15 g per person to that they can really savour all of its flavours.