To discover in the category

Packages are carefully prepared and shipped within 72 hours. Each product is packaged to ensure maximum protection during delivery.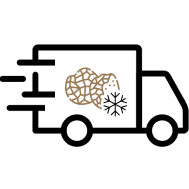 The parcels are handed over to the various transporters each day in order to be delivered to you as quickly as possible, and in the respect of the conservation conditions.

Before, during or after your purchase our customer service is available to answer all your questions via chat, phone or email
Dried mushrooms, excellent quality
Dried mushrooms are, after truffles, Plantin's second major business line.
Over the years, chefs and restaurateurs fell in love with Plantin for its truffle expertise. Then, in the 1980s, they wanted to add high-quality dried mushrooms to their dishes.
In response, we became dried mushroom specialists in order to meet their needs.

We work mainly with wild morels of the species Morchella conica, the quintessential mushroom. In addition, our range includes boletus mushrooms, chanterelles, slippery jacks, horns of plenty, shiitakes, and mixes of forest mushrooms.
All of the mushrooms that we sell are dried immediately after being harvested so that they can be preserved for longer while maintaining their flavours.
Rigorous selection of the best mushrooms
In nature, each mushroom has its own growing season: Morels from April to June, Boletus mushrooms from June to November, Horns of plenty from October to November, Chanterelles from May to October.


The advantage of dried mushrooms is they can be enjoyed all year long. Another benefit is that they're easy to store: just keep them in a dry place protected from heat. Our dried mushrooms can be stored for 18 months.
Once they've been harvested and dried, the mushrooms arrive at our facilities, where they go through an X-ray machine and a metal detector so that any unwanted items can be removed.
They are then meticulously hand-sorted according to size and type.


We offer our dried mushrooms in different forms to meet the various needs and requests we receive.

For example, our morels can be purchased without stalks (special morels), with stalks, and in different sizes (from the smallest size, "mini," to
the largest size, "jumbo," which can be used to make stuffed morels).