English
This product is not available
Ce produit n'est pas disponible
Dieses Produkt ist nicht verfügbar
Questo prodotto non è disponibile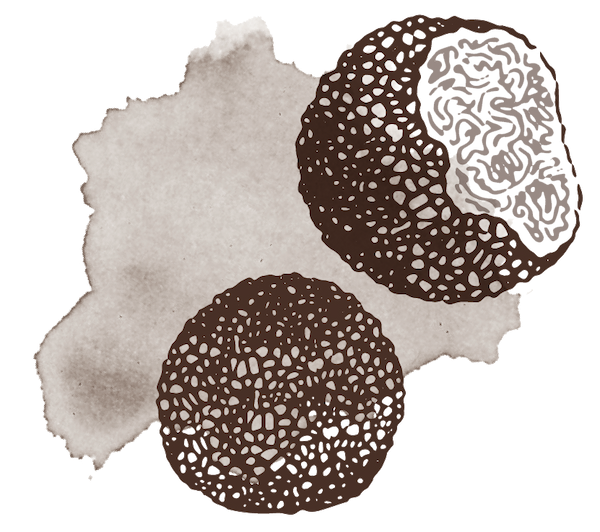 The long-ignored summer truffle is now celebrated!
The summer truffle, whose scientific name is Tuber aestivum, is also sometimes known as "St. John's truffle" because its season peaks around the time of the feast of St. John the Baptist.

It's also occasionally called summer white truffle, though it shouldn't be confused with the Alba white truffle, whose season begins in October and which differs in every way from the summer truffle.

The summer truffle was long shunned by gourmets, and it was even used by farmers to feed their pigs!
Because they were rarely harvested by humans, wild boars, insects, and other animals would feast on them.
Then, four decades ago, people began using them to train truffle dogs. This attracted attention to summer truffles and people began using them in their cooking.
The summer truffle, the result of a natural balance
Harvested between April and August, the summer truffle generally grows under the same trees as the black truffle, including hazels, lindens, evergreen and downy oaks, ashes, and beeches.
In order to fully develop underground, Tuber aestivum requires a perfect balance of moisture. Too much water will kill the summer truffle, while too little will halt its growth. Because of this dependency on weather variations, the summer truffle's harvest varies from year to year.
The environment in which it grows, particularly the composition of the soil, has a strong influence on the summer truffle's flavours. However, the tree under which it grows has no discernible impact on its taste.
The summer truffle's flavours also vary according to when it's harvested. Early in the season, when its flesh is still very light in colour, the flavours will be very subtle. They get stronger around the month of July, when the summer truffle's flesh turns a beautiful chestnut colour.