Packages are carefully prepared and shipped within 72 hours. Each product is packaged to ensure maximum protection during delivery.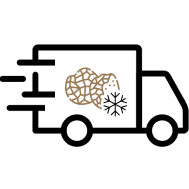 The parcels are handed over to the various transporters each day in order to be delivered to you as quickly as possible, and in the respect of the conservation conditions.

Before, during or after your purchase our customer service is available to answer all your questions via chat, phone or email
Alba white truffle, nature's gift to gastronomy
Alba white truffle, also known by its scientific name Tuber magnatum Pico, is the rarest and most coveted of all truffles.
It is a wild truffle, only growing as Mother Nature sees fit in moist soil at the foot of lindens, willows, oaks, and poplars.

The Alba white truffle is mainly found in Northern Italy, around the town of Alba, in the Piedmont region. It can also be found in small quantities in France. Indeed, a handful of truffle hunters in the Vaucluse and Drôme departments supply us with white truffles each season.

The Alba white truffle gets its scientific name from a doctor from Turin named Vittorio Pico, who, in 1788, dubbed the truffle Tuber magnatum, from the Latin word magnatus, which refers to important figures, like lords and other members of high society. Incidentally, the famous Italian composer Gioachino Rossini nicknamed the white truffle "the Mozart of mushrooms."
The origins of the Alba white truffle
It was only in the 20th century, in 1928 more specifically, that the Alba white truffle began to develop a reputation outside of Italy. That year, Giacomo Morra organised an exhibition dedicated to Tuber magnatum during the winegrowing festival in Alba.
It was such a success that Morra decided to organise La Fiera del Tartufo Bianco, the White Truffle Fair, entirely dedicated to this exceptional mushroom. Some 60 years later, it became an international festival and today it is known around the world, notably thanks to an ingenious initiative: back in the day, the fair's organisers would gift Alba white truffles to important figures who came to visit, like Winston Churchill and Alfred Hitchcock.

In 1930, around the same time he created the fair, Giacomo Morra founded La Tartufi Morra. It was the first company to sell and create products from the Alba white truffle.